JamGrid let you play a continuous jam session with loops and samples you made or imported into Amped Studio Library. It has 64 pads in a grid, where loops can be placed and played with 3 different modes marked with specific icons displayed on pads: "Loops" – sample is played continuously in a loop, "Play Once" – sample is played once from start to end when by hitting the pad, "On-Hold" – sample is played while pressing the pad. Modes are selectable for each pad individually by right click, click "Select mode", choose the mode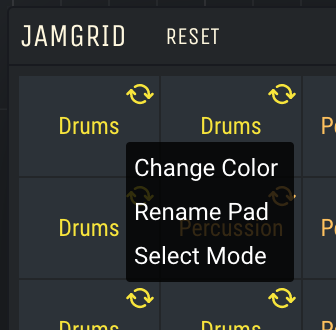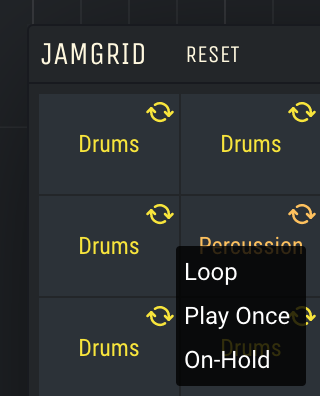 The idea of JamGrid is a principal when pads in the same horizontal row can play simultaneously, pads in the same vertical row can not, it means when you turn on a loop in the same vertical row that is above or below the loop that is currently playing, this loop will start play and previous one will stop. Pads in the same horizontal or diagonal row can be played simultaneously, actually, an exception is pads that are positioned in the same vertical row. Create your variations of tracks mixing loops in a unique order.
There is quantization 1 bar for loops and samples to start playing in the session (this is for samples that are set in "Play Once" and "Loop" modes ), when pressing a pad during the session audio from it may not start playing instantly but will wait for the next bar to start.
4 Presets are available as basic kits, more are coming

.


Users are able to create custom kit by dragging and dropping loops to specific pads. Save custom Kit as Presets. Samples can be taken from Amped studio Library or be imported from a desktop. Note: samples and loops from Amped Studio Library have indexed bpm and got automatically synchronized with Project bpm, audio imported from a desktop is not. Note that in the context of mixing it is better to play with JamGrid with Loops and samples that are 1,2,4,8,16,32 bars in length.
When playing with JamGrid you can drop various fx to Master Track as well.
Try it now in a studio as it is available for all types of subscriptions. Expand ways to create music online with Amped Studio